Non-Profit Sector Big and Growing Faster Than Overall Employment
The Johns Hopkins Non-Profit Economic Data Project recently released its 2019 Non-Profit Employment Report.
There are two key findings. The first is the U.S non-profit sector is big, employing 12.3 million paid workers.
As the study chart below shows, this makes the non-profit sector as big in terms of employment as the U.S. manufacturing sector.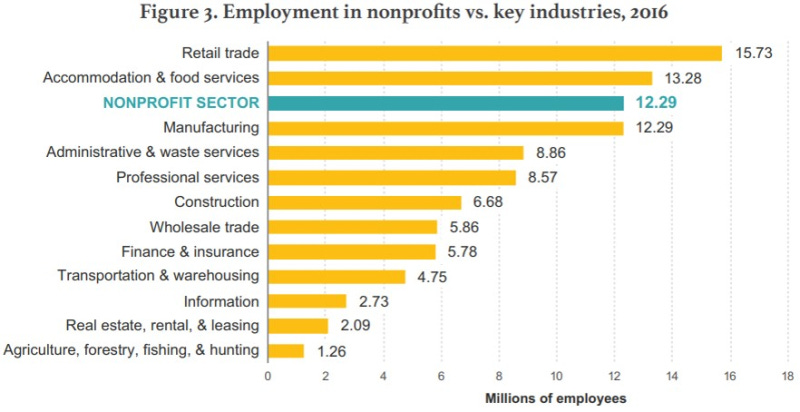 The non-profit sector is also growing relatively rapidly.
As the report chart below shows, from 2007 to 2016 (the most recently available data) employment in the non-profit sector grew nearly four times faster than the for-profit sector.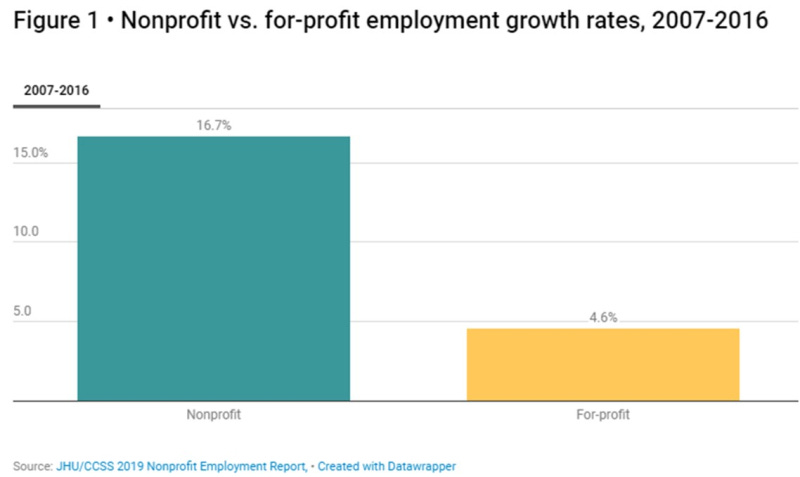 We've long covered non-profits because the vast majority of them are small businesses. Over 80% of all non-profits spend less than $1 million per year in total expenditures.
And since there are about 1.5 million U.S. non-profits, a quick bit of math shows that the average non-profit has 8.2 employees.
We've also long forecast that the non-profit sector would outgrow the for-profit sector of the economy. We continue to forecast this. The trends driving this growth include:
The Internet and other technology makes is making it easier to start and operate a non-profit and especially small non-profits.

Baby boomers, looking for encore careers and a way to give back, are starting growing numbers of non-profits.

Millennials, who have a strong interest in social service, are starting non-profits.

Non-profits and social service organizations are in many cases replacing governments as the key solvers of social problems.

Revenue generating business models have become more common, which is leading to more self-sustaining non-profits.
One issue may detract from the continued growth of non-profits is changes in tax laws. Key quote from the Johns Hopkins report:
"... the Federal Tax Cut and Jobs Act passed in December 2017 included several items that could have a negative effect on nonprofits' ability to generate private donations. For example, by greatly expanding the standard deduction available to individuals, the tax bill will eliminate the tax incentives for giving for millions of taxpayers."
While we agree this is a risk, we believe donors will continue to provide enough support for this sector to continue to grow.