The Paradox of Increasing Business Travel; Skift's 2020 Travel Trends
Skift is one of our favorite publications. It covers the travel, dining, and wellness industries from a business perspective. Because of their remit, they report on a wide range of interesting trends.
The recently released their 10 Business Travel Trends for 2020. The 10 are:
The Power of Being There in Person

Designing Great User Experiences to Boost Adoption

Travelers Demand an End-to-End Experience

Winning the Price, Loyalty, and Experience Trifecta

Platforms Simplify the Ancillary Purchase Process

Expanding the Sharing Economy

Bleisure Travel is the New Black

Rethinking Corporate Travel Expenses

Business Travel Culture Drives Company Success

Taking Care of Business, the Traveler, and the Planet
While we like all of these trends, we find The Power of Being There in Person the most interesting. Key quote from the report on this trend:
Video and digital collaboration tools have transformed the modern workplace. Today, employees can easily collaborate with co-workers around the world, offering a huge boost to productivity and what would seem to be growing opportunities to reduce travel costs. But in spite of the increasing potential of these digital collaboration tools to transform modern business, the importance of face-to-face meetings remains strong and critical to business success.
The chart below illustrates the fact that 9 out of 10 business executives surveyed agree with this.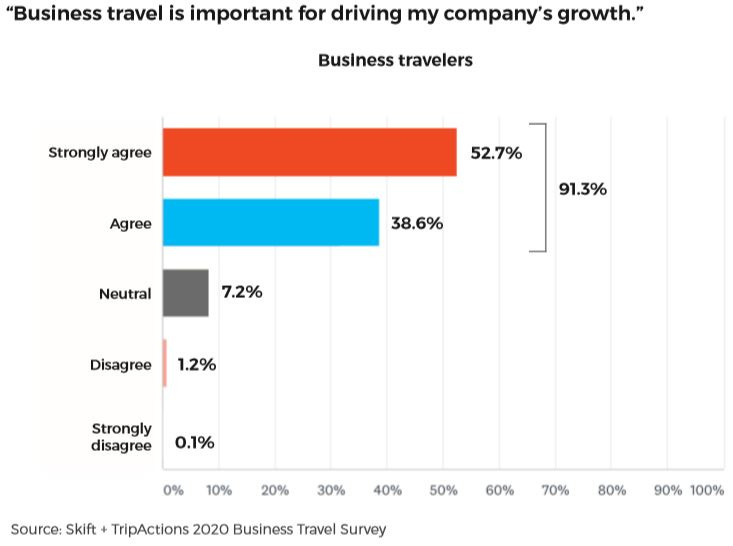 We think this trend is similar to the paradox of place. This paradox is even though the Internet and connective technologies have made working remotely easier than ever, people and companies are increasingly clustering together in fewer, more valuable locations.
A related paradox is despite these same tools being able to substitute for business travel, business travel continues to grow.
Our view is connective technology is, somewhat counter-intuitively, helping to drive the growth of business travel. It's doing this in 3 ways.
Connective technologies have allowed business operations and workers to become more distributed. This means more travel as managers and employees travel to meet with those not co-located.

Connective technologies have also increased the number of people who work together regularly, but aren't co-located. Thanks to the Internet and related tools, companies are more willing to create distributed teams and allow team members to live away from their teammates. This leads to more travel and more people traveling because these distributed teams get together in-person.
Related to 2, connective technologies have led to more cross-organizational teams comprised of business partners, suppliers, customers and company employees. These teams are almost always distributed, which creates the travel need to get together.
We're seeing signs that paradox of place is starting to shift, with work becoming more distributed. This likely means there will be more business travel in the near future.
We'll have more on this topic in the new year.