The Rise of Esports
Quartz's members-only article (meaning you have to be a paying subscriber to see it) The stars, teams, and investors turning esports into big business nicely covers the rise of esports.
Key quote:
"Tens of millions of viewers are tuning in to watch other people play video games competitively, and it's becoming big business … it is creating a new kind of sports star, and both the gaming industry and professional sports franchises have taken notice."
As the Quartz chart below shows, esports' revenue is growing rapidly and expected to generate about $1.1 billion in revenue is 2019.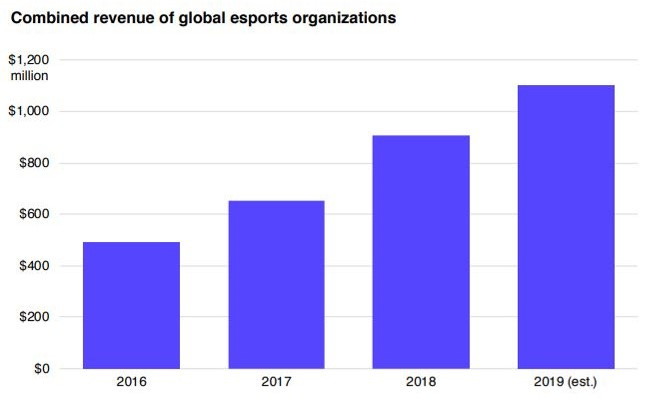 According to the article, esports started in 1982 with a TV show Starcade, in which teenagers competed in arcade games. Alex Trabek of Jeopardy fame even hosted one of the episodes.
Since then the industry has grown to the point where professional sports teams are getting involved. Again from the Quartz article:
"The Philadelphia 76ers have bought esports teams and are providing them access to training facilities —and they're not the only ones. New England Patriots owner Robert Kraft owns a team, as does Los Angeles Rams owner Stan Kroenke."
Esports is an excellent example of how technology is creating societal change – and new businesses and opportunities.
BTW, we find the Quartz premium membership service to be well worth its cost. We particularly like their weekly subject briefings, like this one on esports.